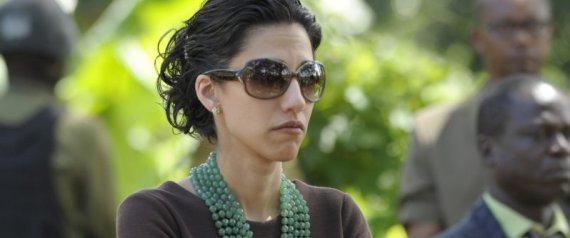 When Hillary was running for president, I wrote a blog post on Huma Abedin. I saw her in action with Hillary in my own neighborhood in Houston's East End. There she was at Hillary's side at Henderson Elementary School, holding an extra scarf, a notebook, things Hillary might need.
I read that Huma was Hillary's right-hand, keeping her appointments, her schedule. She was unruffled, unfazed and did a very good job. Vogue published a photo spread on Huma. I think she is terrific.
This morning, i read on Huff Post that Huma has gone to an undisclosed place to take time off after working the world with Hillary as recently as last week. Her husband, Representative Anthony Weiner, resigned his position and has gone into
'treatment.' What does that mean? A 12-step program for sex-addicts?
I like Huma. She has class, she's smart and she is devoted to Hillary. I don't like what is happening to Huma. Or to her unborn baby, who must be feeling her vibes of distress and despair right now. Not fair. Huma's been married for such a short time to this man she met on the campaign trail and has known for years. He was a rising political star, but couldn't resist tweeting young women he didn't know, showing off sexually. Stupid, and frankly banal.
I think Huma's strong enough to pull her life together, but that deep hurt won't go away any time soon. She got her heart cracked open. I can relate.